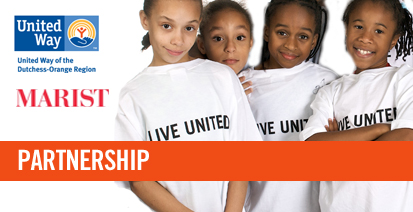 We encourage you to take part in this incredible opportunity.
As partners in education, United Way of the Dutchess-Orange Region and Marist College are pleased to announce a special partnership which offers volunteers and their adult family members a 25% tuition discount* on Marist's graduate and adult undergraduate degree programs.
Online and On-Site Options available!
Advance your career and your future with a Marist education! Marist College offers a variety of courses and programs for adult learners. Options include over 30 undergraduate degrees, 1 degree completion program, 12 graduate degree programs and 2 Advanced Certificates.
United Way has partnered with over 100 local nonprofit organizations to offer you a variety of ways to give back to the community!
To start taking advantage of this great opportunity, begin by creating a user profile and reviewing our current volunteer opportunities. When you see an opportunity of interest to you, sign up to volunteer! It is as simple as that! Have questions about the portal or volunteering in general? Call Melissa at 845-471-1900 EXT 3128.
Please visit www.marist.edu for Marist information on upcoming events and a detailed list of programs options. To help you get started, call the Graduate Admission Office at 845-575-3980 today!
*These reduced tuition rates are not retroactive and cannot be paired with any other Marist College discounts or scholarships. Books, travel, and all related expenses are the responsibility of the student. Qualifying students must be 22 years of age or older and applying through either Graduate Admission or Adult Undergraduate Admission and must submit proof of Active Volunteer Status as part of the application process. Final determination of eligibility is made by Marist College.